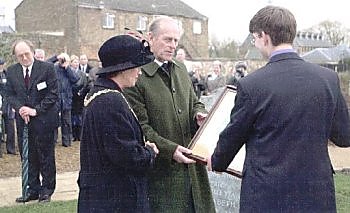 Peter Cousins and Duke of Edinburgh
Photo was taken when the Duke of Edinburgh visited Ely (Cambridgeshire) to open the 'Jubilee Gardens' on 11th February 2002. Peter was involved in the opening because he had
been awarded the 'Chairman's award for young people' for doing charity work in the area.
Peter lives in Soham in Cambridgeshire, but his family has had a caravan on the Park
Resorts (previously Haven) site in South Beach Road, Heacham for the past 20 years, so he feels a part of Heacham!