To Advertise on this section .... Click Here
---
THIS COULD BE THAT SPECIAL CHRISTMAS PRESENT THE
WHOLE FAMILY COULD ENJOY.
Super League (make) 7ft x 4ft Pool Table with slate bed.
Same make as used in many pool leagues, clubs and pubs.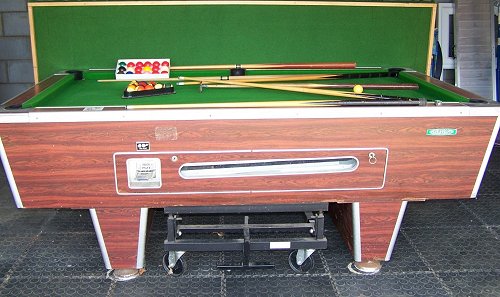 The pool table is in good condition.
(these normally sell re-conditioned from £500)

There is also a Pool table trolley lift so just one

person can move the table.
(these are normally sold from £200)

There is a set of pool balls numbered

and with stripes and spots.

Also there is a set of snooker balls.

There are 2 pool cues and one short cue in

case you are tight for space on some shots.

There is a rest, and 3 snooker cues.

Plastic triangle.

The coin slot is set for Free play but I presume

it could be altered to take money if required.

There is a 8ft x 4ft home made top.

On one side is wood paneling to protect

the table.

On the reverse side is a table top bowls surface

with proper bowls carpet as used in carpet

bowls.

There are 2 sets of table top bowls.

Photo shows the 2 sets of table top bowls

and the additional set of snooker balls.

I am asking £400 (o.n.o.) for all the above, at the moment it is in the corner of my garage. It can be viewed
virtually at anytime if you phone me first. You will be able to see how easy the table can be moved with
the use of the trolley lift. You can also see how you can use the table and the top to play
table top/carpet bowls.
Please phone Malcolm on either 01485 570505 or 07919 108460
(I am in Heacham, near Hunstanton, Norfolk)
Please note buyer to collect, the table is very heavy it would take 2 very strong people to lift it, 3 or 4 people would make the job much easier.
The top opens up and the slate base can be taken out and carried separately.